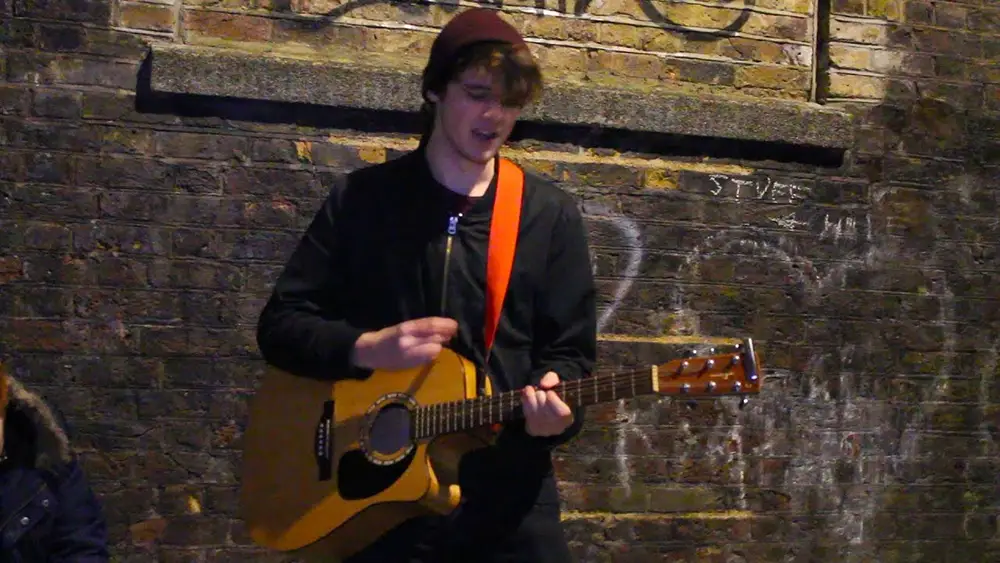 Wilbur Soot, known as Will Gold in real life, came to fame as an internet gamer streaming on platforms like Twitch and YouTube.
Wilbur Soot didn't learn to play music until he was 21 years old. He picked up guitar for the first time in 2018, and stated that he practiced for up to 10 hours a day while he worked as a convenience store clerk at nights.
Soot released several singles since picking up guitar, and made it to the UK Singles Chart at number 65 with "Your New BoyFriend", released in December 2020.
In his videos, Soot was first seen playing a Simon and Patrick acoustic guitar. In later videos, he is seen playing a Fender Telecaster, and even a Kala Ukulele.
Soot's career is relatively new, and I'm sure we will see more guitars and instruments in the future. Here is the link to one of Wilbur's YouTube channels: Click Here.
Let's take a closer look at those guitars.
Simon and Patrick Woodland CW Spruce A3T
This is the guitar that Soot used in his first YouTube video, seen here.
As well as more recent videos, like the one seen here.
This Woodland Series guitar is an Acoustic/Electric that is handcrafted in Canada. It is one of the best acoustic guitars for its price range, and it's really actually cheap if you consider that it is hand made.
These guitars are solid wood, with a spruce top, cherry sides, and a mahogany fret board. They are well built and sound great. They have a nice mid-range and a punchy high-end, but tend to be a little mellow on the low-end.
The Story Behind Simon & Patrick
Simon & Patrick guitars is a subsidiary of Godin Guitars. Godin Guitars was started up by Robert Godin. Godin built guitars as a passion project, and built up the company over the years. Godin's subsidiaries now sell guitars around the world.
Simon and Patrick Godin are Robert Godin's sons, and they continue their fathers work as luthiers. Hence the name Simon & Patrick Guitars.
Each of Godin Guitars subsidiaries specializes in a different niche of guitars. Simon & Patrick Guitars specializes in mid to high end steel string guitars. The Simon and Patrick Woodland CW Spruce A3T is at the lower end of that spectrum
Perhaps a more popular brand in the United States is Seagull Guitars, another subsidiary of Godin Guitars. Seagull Guitars makes entry-level to professional acoustic guitars. I've had a good experience when I played the Seagull Performer CW Flame Maple HG QI Guitar, although not every Seagull I've picked up has been great. You can view this guitar on Amazon by clicking here.
Build of the Woodland CW Spruce A3T
The Woodland CW Spruce A3T is an acoustic-electric, solid wood, steel string guitar. It is quiet on the low-end, which brings out the mid-range and high-end. The top is spruce, the side and back are cherry, and the fretboard is made of mahogany.
These types of wood are pretty standard for guitars, as they are cheap and readily available. This is also why this particular guitar can be built and sold for less than $1000.
This acoustic guitar appears to be Wilbur Soot's go-to acoustic guitar.
Fender Player Telecaster – Tidepool Blue
Soot can be seen playing his Telecaster in many videos, with one of the most recent being "Your New Boyfriend".
The Fender Telecaster is a stable in the Guitar world, and used by many world-famous guitarists. You can immediately tell that this guitar looks stunning, with its iconic design.
The Telecasters versatile tone, ranging from bright and poppy, to a muddy blues feel, it fits well with Soot's Indie Rock style.
Telecaster History
The Telecaster was introduced in 1951, with a unique sound that was "incredibly bright, clean and cutting sounding, with a piercing high end and thick midrange and bass." – Fender
If you would like to learn more about the history of the the Telecaster, Fender has a page dedicated to that here.
Build of the Fender Telecaster
The Telecaster is typically made from Alder wood, although certain models may use other types of woods. The Player Telecaster does use Alder wood for the body, and Pau Ferro for the neck.
The Player series has a "Modern-C" shaped neck, which is designed to fit the hand better and make it a little easier to play. The Player series uses two Alnico 2 Humbucking pickups designed to keep with the traditional Telecaster tone, while helping to eliminate buzz.
Wilbur Soot's Other Instruments
What instruments does Wilbur soot play? Wilbur Soot has been seen playing acoustic guitar, electric guitar, bass, ukulele, slide whistle, and kazoo.
Bass
Ibanez SR500
Ukulele
The brand of ukulele is a Kala Ukulele.
More Instruments
Soot mentions he play's other instruments in this interview, but so far there isn't any video evidence.
Related Questions
What band is Wilbur soot in?
Wilbur Soot reported he was in a band named LoveJoy. The released an EP titled "Home Brew" in 2019, a single titled "The Youth Abide" in 2019, and a single titled "Open House" in 2020.
You can find LoveJoy on Spotify here.