These days we don't want to be restricted by wires. We live in a wireless age. That is something that guitarists are very aware of as they often have to deal with all sorts of cables, running from the guitar to the pedalboard, between pedals, and the amp. And don't forget about power cords.
Is Bluetooth a viable option for eliminating the cable between the guitar and the guitar amp? Can you use Bluetooth for playing guitar through an amp?
Guitars can be connected to guitar amplifiers using Bluetooth transmitters and receivers, but the latency between the instant you play a string and the moment the sound comes out of the speaker will be a minimum of 40 ms. 
This is a long enough latency to be noticeable and is enough to be annoying.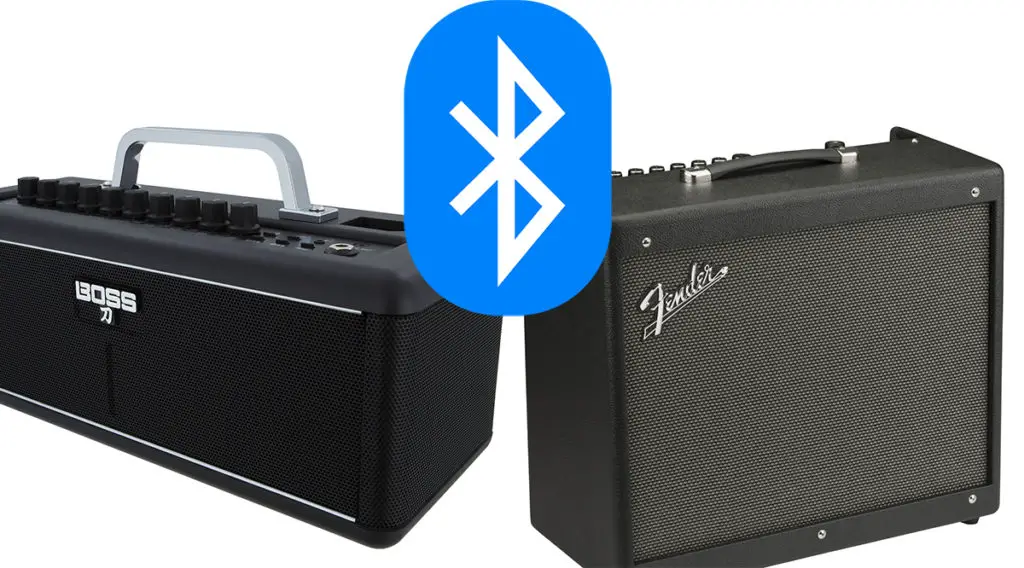 If you're a little bit nerdier and want to read up on which Bluetooth codec is able to achieve 40 ms latency, you can find more information on Qualcomm's website here. The codec is aptX LL (Low Latency). 
There is also a conversation about it over at Justin Guitar, found here.
Latency becomes noticeable around 10 ms, and latency higher than 100ms is enough lag to become annoying. Really annoying actually, to the point that you may call it 'unplayable.' Our brain can compensate for a bit of latency while playing, but only up to a certain point.
Did you know that the speed of sound traveling through air is approximately a thousand feet per second (1000 fps)? That means each millisecond of delay is equivalent to listening to the sound from a point one foot further away. 
If you are using a 20-foot cable, and we'll say you are playing about 12-feet away from your amp, you will have slightly more than a 12ms latency. Most guitar players can deal with that. 40ms is a whole other beast.
For reference, wireless transmitters (as opposed to Bluetooth) have a latency of around 2-3ms. This is low enough that it will not be discernable even if you are listening for the delay.
So if Bluetooth is not suitable for playing guitar through, why do so many modern guitar amps have Bluetooth built-in? This raises a lot more questions which we'll discuss in this article.
How Does A Bluetooth Guitar Amp Work?
Bluetooth is one of the most current and high-tech communication technologies in use today. A Bluetooth speaker is a speaker that picks up the audio signal from a connected Bluetooth device and amplifies it. Most often, this source is a smartphone or tablet. So what does it mean when a guitar amp has Bluetooth?
How does Bluetooth guitar amp work?
A Bluetooth guitar amplifier works the same as a traditional guitar amplifier but with a Bluetooth receiver built-in to stream audio or control certain amp features through a smartphone app.
Listen and Play Along Using a Bluetooth Amp
Bluetooth amps often have two speakers for delivering big, full sound for both electric guitar amplification and listening to your favorite tracks.
You may listen to music from your phone and play along with popular songs, backing tracks, and YouTube tutorials using Bluetooth. Whatever audio you want to play over Bluetooth can be played through an amplifier with Bluetooth.
Bluetooth guitar amps can also be used as high-quality Bluetooth speakers when you just want to unwind. You can enjoy tunes from your music library or streaming services directly from your tablet or phone.
Bluetooth Speakers Connected to iOS and Android Apps
Depending on the brand, Bluetooth guitar amps are made even more powerful with their support for external wireless operation via Bluetooth. Usually available for iOS and Android devices, apps for amplifiers are another example of how technology changes how we listen to music.
These apps give you total control over your amplifier from your smartphone or tablet. You're able to adjust all the amp's controls and access effects types. Sometimes, there are settings that are only available from the app.
You can also save setups to the amp's memory, organize sound libraries on your device, and download free patch collections.
Examples of these apps are Fender Tone™ 3.0 and BOSS Tone Studio. Here are links to the respective apps. 
Note for BOSS Tone Studio; you have to download the app for your specific device (KATANA, WAZA, etc.)
Fender Tone:
Android: https://play.google.com/store/apps/details?id=com.fender.tone&hl=en_US&gl=US
Apple: https://apps.apple.com/us/app/fender-tone/id1174113426
Boss Tone Studio (for KATANA AIR):
Android: https://play.google.com/store/apps/details?id=jp.co.roland.boss_katana_air_editor&hl=en
Apple: https://apps.apple.com/us/app/boss-katana-air-editor/id1336823491
Can I Use A Guitar Amp To Play Music From My Phone?
Playing music through your amp is much easier than you might think. As we discussed earlier, Bluetooth technology lets you play music from your phone to your amp or headphones wirelessly. It's a great feature that makes it easy to play music in more places without getting tangled up in cables.
However, it's not the only way. Here are the two ways you can play music from your phone through a guitar amplifier.
Use a cable connected to the headphone jack of your phone and the input of the guitar amp.

Phones usually have a stereo 1/8″ plug. Get a cable with a 1/8″ stereo or mono female plug and plug it into the headphone jack of your phone. The other side of the cable should have a 1/4″ mono female plug. Plug that into the input of your amplifier. If you have an instrument cable already, you can just put a 1/4″ to 1/8″ adapter on one end. Here's a video demonstrating the idea. Note that he uses a 1/4″ stereo jack, so only one side of the audio will play through the amp, not both Left and Right.

https://www.youtube.com/watch?v=XKVZBfldl_8

Use Bluetooth.
Today, many amps have Bluetooth built right into the amp, which a phone can be connected to. Otherwise, you can get a Bluetooth adapter and plug it into the amp's input.

How Do I Connect My Bluetooth To My Guitar Amp?
Here are some steps on how to use your Bluetooth guitar amp with a smartphone or tablet:
Put the amp in Bluetooth pairing mode.
Search for available Bluetooth devices on your phone.
Select the name of the amp to establish a connection.
Here's a demo of the BOSS Tone Studio connected to a Katana Air.
Conclusion
Latency becomes noticeable around 10 ms, and anything higher than 100ms can be a deal-breaker for most musicians. 
That said, Bluetooth guitar amps are a great way to enjoy music without being tethered to cables. Not only can you play music from your phone, but many amps today have Bluetooth built-in, so you can easily connect wirelessly. With the right app, you can have total control over your amplifier's settings and effects.
Bluetooth amplifiers are a great way to enjoy some music without the hassle of tangled cords. They're also helpful if you want more control over certain features like effects and EQ settings in an app specific to your amp brand.