You just bought a guitar but couldn't afford an amplifier, or you live in an apartment, and your neighbors don't want to hear you shredding at 2 in the morning. 
Sure, you could plug your guitar into headphones, but you wouldn't be able to hear anything. Plus, where are the effects? So what about a phone—can you use it as an amp?
You can use your smartphone or tablet, Android or Apple iOS, as an amplifier for your electric guitar or bass. You will need an interface to connect the guitar, an amplifier app to process the signal, and headphones or speakers to listen to the sound. 
If you want to jam when you don't have access to a full-size amp, your phone can be your portable amp. You'll need to download an app, grab a speaker or headphones, and your guitar. After you've read this guide, you'll be ready to jam away.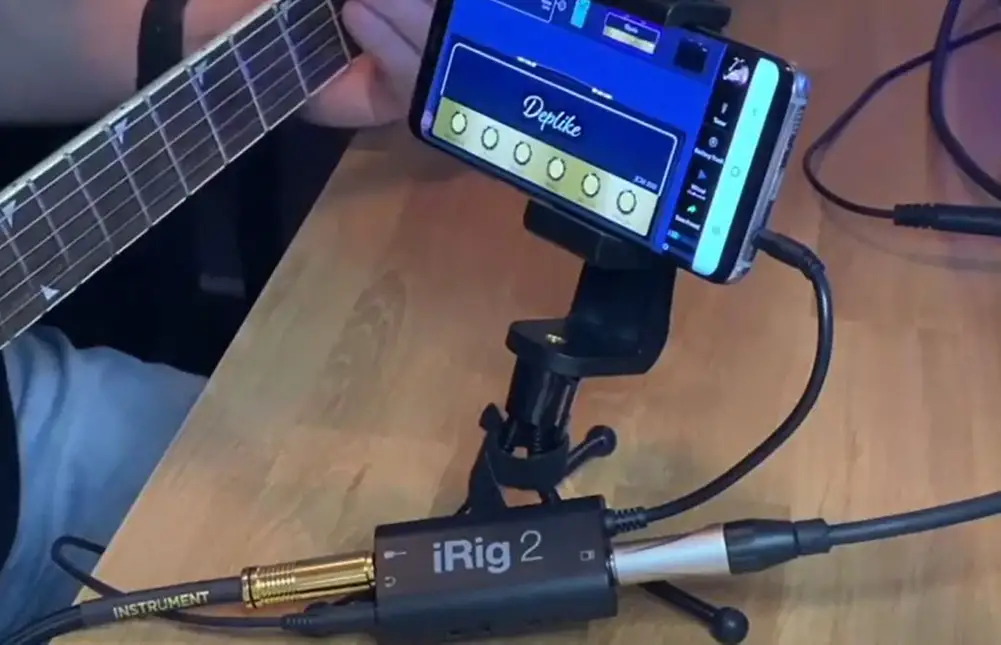 How Can I Play My Guitar Through My Phone or Tablet? 
Playing the guitar through your phone is a new trend continuing to gain in popularity.
Playing through an amp can be expensive, but now with smartphones and tablets, you don't have to worry about not being able to play if you don't have access to an amp.
Playing through your phone also enables you to practice and play anywhere you can take your guitar.
The following methods show you what options you have on how you can play your guitar through your phone.
You may also want to check out a mini guitar amp.
Related Content: What Is a Mini Guitar Amp? How Do You Use a Mini Amplifier?
How To Play Guitar Through A Phone Using An Analog Interface
An analog interface can be the perfect way to connect your guitar or bass to a smartphone if the cost of the interface is a concern. It will allow you to listen back through headphones, or you can send the audio signal out to a pair of speakers for yourself and others nearby to hear.
This section will give you insight into what an analog interface is, how it works with your phone or tablet, and which ones are the best interfaces for iOS and Android devices.
Analog interfaces are converters that take input signals from instruments like guitars or keyboards and output the signal to a TRRS (Tip-Ring-Ring-Sleeve) plug that can be inserted into the headphone jack on your phone or iPad.
The signal is not converted into a digital signal until it reaches your phone, meaning the signal will have more quality loss versus using a digital interface.
You may be asking where you can plug your headphones into since the interface is connected to the headphone jack. The answer is that analog interfaces come with their own integrated headphone jack. 
This is why the connection to the phone is a TRRS connection, allowing for stereo input and one audio output signal. This will enable you to listen to the audio coming from your device while also sending in the signal from your instrument through the smartphone's headphone jack.
Analog audio interfaces are less expensive than digital interfaces. Although analog audio isn't as clean and clear as digital audio, it doesn't really make a difference for many applications, such as practicing guitar. 
Related Content: Can I Use Audio Interface Without Computer? Will Focusrite Work Without Computer?
That said, I don't recommend analog interfaces for recording. Lastly, analog interfaces are nearly obsolete since digital interfaces can be powered and connected to phones using a USB-C cable.
Here is one of the most popular analog audio interfaces.
The IK Multimedia IRIG 2 is an excellent choice for an analog audio interface. It has many features that make it a great option for connecting your guitar or bass to your phone or tablet.
First, the IRIG 2 has a built-in headphone jack, perfect for monitoring your playing or practicing without disturbing others. It also includes an input for a standard guitar cable and an output that can connect to either a pair of headphones or external speakers.
This interface also has a gain knob, which gives you control of the volume of your signal. The IRIG 2 is also very compact and easy to take with you wherever you go.
Related Content: Should I Get A Mixer Or Audio Interface? Can A Mixer Act As An Audio Interface?
How To Play Guitar Through A Phone Using a Mobile Digital Interface
Using a digital interface is the best option to get the cleanest sound without a lot of noise.
A digital interface will connect to your phone's USB/Charging port. This is the most preferred option if you are going to play guitar through a smartphone or tablet, as it will provide you with excellent sound quality.
Previously, the only option for connecting the guitar to a smartphone was to use analog guitar interfaces. Thankfully digital interfaces have been released as smartphones and tablets become more capable.
Digital interfaces offer better sound quality than analog models because they transform the guitar's analog signal into a digital signal as soon as possible. Keeping it in the digital domain reduces the chance of introducing more noise.
On the other hand, analog interfaces take the signal in through the analog headphone port, and it doesn't get digitized until it gets into your smartphone.
High-quality mobile digital interfaces will have 24-bit Analog-to-Digital converters for the input and 24-bit Digital-to-Analog converters for the output with sampling rates of up to 96kHz.
This gives you professional-quality audio on the go. The mobile digital interfaces match the sampling resolution used in professional recording equipment.
For reference, the sampling rate for CD-quality audio is 44.1kHz.
The biggest downside to digital interfaces is their cost, which typically ranges from about $60 to over $200, depending on the product and its features.
Here is one more option, net yet available on Amazon:
https://www.sweetwater.com/store/detail/AiMicro–rode-ai-micro-interface-for-ios
How To Play Guitar Through a Phone Using an Audio Interface
This is the best option if you don't mind carrying around more bulky equipment. And by bulky, I mean something that you can easily hold in your hand but that doesn't fit in most pockets.
It's also a good option if you already have an audio interface that you use to record. The Focusrite Scarlett series is one of the most popular lines of audio interfaces.
And guess what? You can use it on the go.
Okay, you want to play guitar. How do you connect your audio interface to your phone or tablet?
Connect the USB port of the audio interface to the USB or Lightning port on your phone. Use an app to record or simulate some effect, such as an amp. Connect headphones or monitors to the audio interface to listen to the output.
If the phone cannot supply enough power, consider using a powered USB hub.
Good apps to choose from are discussed later in the article.
Things to consider when using an audio interface connected to a phone or tablet:
An adapter may be needed to connect the USB plug to your phone or tablet.
The phone or tablet may not have enough output power to power all the audio interface features, primarily Phantom Power.
Popular Portable Audio Interfaces that Can Connect to a Tablet or Phone
Many people think of the iPad as a device solely for playing games, but as a musician, you should know it's also an excellent recording studio.
As I mentioned, the best way to do this is by connecting your audio interface to the tablet using a digital method (aka, the USB or Lightning port and not the headphone jack). This will allow you to record high-quality audio on the go without sacrificing any sound quality.
If you already have an audio interface that you use in your home studio, then all you need is a USB cable or a Lightning cable and an app for recording and/or adding effects.
Many available apps are free of charge from Apple's App Store or Google Play. Granted, you will have to pay for most of the plugins. (More on that later in this article.)
Here are two very popular audio interfaces that have been proven to work with an iPad or Android device.
Focusrite Scarlett 2i2 3rd Gen USB Audio Interface
One of the most popular audio interfaces for home studios is the Focusrite Scarlett 2i2. It has two channels, perfect for recording guitar and vocals simultaneously.
It also comes with a range of great software for both beginners and experienced users alike.
Plus, it's small and made to be portable, so you can take it with you wherever you go.
The 3rd gen version is bus-powered, meaning that power is supplied via the USB cable and not a separate power adapter. If you have an older version, keep in mind that you'll have to lug around a power supply as well.
Apple:
Android (Video uses 2nd gen):
MOTU M2 2×2 USB-C Audio Interface
Much like the Focusrite Scarlett 2i2, the MOTU M2 is an audio interface perfect for home studios.
It has two channels, which, as I said before, gives you the ability to record guitar and vocals simultaneously.
One of the things I like about the MOTU M2 is that it has a small colored display on the front to provide the necessary information. I find that more helpful than the flickering red and green lights on the Focusrite's.
There are more options available if you have a brand preference. One of those other options would be the PreSonus Studio 24c USB-C Audio Interface.
Adapters To Connect Audio Interfaces To Smartphones & Tablets
Newer Audio Interfaces will typically have a USB-C port. Android phones usually have a USB-C port, and Apple products, like the iPad, will have a lightning port.
An Audio Interface will usually come with a USB cord, but the ports on the cord vary. Some have USB-C connectors on both ends, while others have the big square USB-A ports on one end intended to connect to a computer.
To sum up the problem, you may not be able to connect to your phone or tablet to the audio interface when using the USB cable that it came with.
To connect the audio interface to your smartphone, you will need to use an adapter to convert between USB sockets and ends to fit your mobile devices' ports. Fortunately, these are basic converters that are easy to use and easy to find on Amazon.
These adapters are commonly referred to as OTG Adapters. OTG is short for On-The-Go.
Here are three adapters that will work whether you have the Focusrite Scarlett 2i2, the MOTU M2 Audio Interfaces, or any other audio interfaces. All that matters is that you use the correct adapter for the port being used. Listed are options for iOS and Android devices.
Apple Lightning to USB Adapter
The Apple Lightning to USB Adapter can be used to connect an audio interface with a USB port to your Apple iPad or iPhone that has a Lightning port.
It does not provide any extra power, but it will work without needing an additional power adapter. It's a small white box with a lightning port on one end and a USB-C port on the other.
If you do need to provide power, there is an adapter for that as well. It has a USB-A port and a Lightning port as inputs with a Lightning plug as the output.
Android – OTG USB-A to USB-C Adapter
The Android OTG USB-A to USB-C Adapter can be used to connect an audio interface with a USB-A cable to your Android phone that has a USB-C port.
If your audio interface has a USB-C port but comes with a USB-C to USB-A cable, you also have the option to use a USB-C to USB-C cable. In short, it has the same plug on both ends.
Setting Up Your Apple iPad or Android Device As A Guitar Amp Simulator
Once you have the proper adapters, if needed, connecting your audio interface to your phone is easy.
Once connected, your phone should automatically detect the audio interface. If not, you will need to select which device you want to use for audio input and output.
Here are some quick tutorials.
Android: https://www.businessinsider.com/how-to-change-audio-output-on-android
Apple: https://support.apple.com/guide/audio-midi-setup/play-audio-through-multiple-devices-at-once-ams7c093f372/mac
Now that your audio interface is connected to your phone, it's time to start using some apps to practice and record guitar.
I do want to mention real quick that there are a bunch of apps that are no longer updated, such as Tonebridge Guitar Effects from Ultimate Guitar (Android) and AmpKit (iOS).
The apps I'm mentioning in this article are all recently updated.
Guitar Effects & Amps- Deplike (Android & Apple)
This app is available for both Android and Apple devices. There are many built-in amps and effects to use, but there are also options for downloading more if you're willing to pay for them.
The thing that sets Deplike apart is that they created their own audio driver for Android devices to deal with the latency problem that android typically has.
Android: https://play.google.com/store/apps/details?id=com.deplike.andrig
Apple: https://apps.apple.com/us/app/guitar-effects-amps-deplike/id1230500440
AmpliTube CS for iPad (Apple)
AmpliTube has been around for a while now. You can get it on Android devices, but I'm only linking to the iPad version because that's the only version they keep updated these days.
AmpliTube lets you create and edit guitar and bass rigs with virtual amps, cabinets, and pedals. You can also mic your amp and cabinet to get the best tone.
Note: Amplitube is no longer updated for android. It hasn't been updated since 2015 in the Google Playstore.
Apple: https://apps.apple.com/us/app/amplitube-cs-for-ipad/id373743686
Mobile DAWs with Amp Sims
A digital audio workstation (DAW) is an application that allows the user to record, edit and mix sound files. The phrase "digital audio workstation" can also refer more specifically to DAW software running on personal computers instead of hardware-based mixing consoles or other standalone devices.
Now, as technology continues to develop, we have mobile DAWs. Here are some excellent options that have amp simulators built-in.
GarageBand (Apple)
GarageBand has a wide variety of amps, cabinets, and pedals available, as well as a ton of presets. You can also add recording effects like reverb and delay.
Apple: https://apps.apple.com/us/app/garageband/id408709785?ls=1&v0=www-us-ios-garageband-app-garageband
BandLab – Music Making Studio
BandLab is Garageband's biggest competitor, and I like it a little better because I can use it on my Android phone.
BandLab has a ton of amp sims available. It's free to use on your phone, and you can also download the desktop version.
Android: https://play.google.com/store/apps/details?id=com.bandlab.bandlab&hl=en_US&gl=US
Apple: https://apps.apple.com/us/app/bandlab-music-making-studio/id968585775
Conclusion
Using your phone or iPad to connect the guitar is helpful if you want to record anywhere. It's also great to be able to bring your own portable amplifier everywhere with you.
You can accomplish this in a matter of minutes by utilizing one of the previously mentioned interfaces with your smartphone.
If you're looking for a mobile DAW with amp sims, I recommend BandLab. It's free to use on your phone, and the desktop version is available if needed. You can also get Garageband or AmpliTube CS for iPad (Apple).
Although the interfaces and software for computers are more developed, mobile device interfaces and applications are continuously improving. It's close enough now that it can be hard to tell the difference.