The guitar amplifier is an electronic device that converts an electric signal into sound. Guitars, keyboards, or other musical instruments generate electric signals.
A regular amp can be pretty large and heavy. Mini guitar amplifiers are a great way to amplify your guitar without having to lug around a big amp. They're small and light, making them perfect for musicians on the go or those who don't have access to an amplifier.
You probably have already figured out that mini amps are small amplifiers based on the name. Let me build on the information a little bit more.
What is a Mini Guitar Amp?
A mini amplifier is a small, lightweight battery-powered amplifier designed to be portable. Mini amps provide everything you need to play your electric guitar and often include a built-in tuner and effects.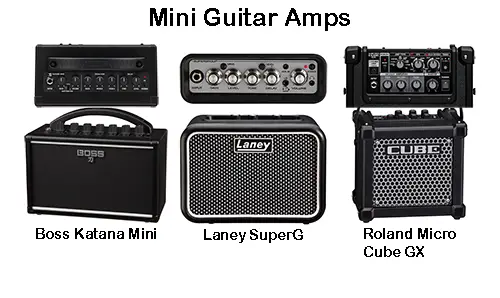 Many mini amps come with pegs to attach a guitar strap or a pocket clip to easily be carried hands-free. This means you can walk around playing your guitar wherever you are.
A mini guitar amp is a small amplifier that allows you to play your instrument without the need for an external amplifier or PA system. This makes them ideal for practicing around the house, at school, or wherever and whenever you get the chance to play.
A mini amplifier is a smaller version of an amplifier that can be used for practice anywhere. It makes sense that people with lower budgets, like beginners, would use them since they are affordable compared to bigger amplifiers.
A mini guitar amp is called "mini" because it's relatively small compared to a standard amplifier. The typical width of a mini amp is between 6″ – 12″. There are a bunch of options in terms of speaker configurations, ranging from 1×1 all the way up to 2×2 for the larger mini amps. The larger the speakers, the larger the amp will be.
In terms of power, a mini amplifier will typically be between 1-Watt to 9-Watts.
There doesn't seem to be a standard size when it comes to mini guitar amps. It all depends on the manufacturer, but the common trait is that they are a lot smaller than a regular-sized amp.
MIni amps often have a stereo input or Bluetooth, so you could run your smartphone into it if you want to practice along with songs. Mini amps also commonly have a built-in tuner, so you don't even have to have that along with you. All you need is a guitar cable, and you're ready to go. If you need help picking out a guitar cable, here is some info that might be useful: Why Use An Angled Guitar Cable? Angled Jacks vs Straight Jacks
There are many different types of mini amps on the market, so you may want to do some research before buying one if you're unsure what features are important to you.
You may also be interested in knowing that you can use your phone as an amp also.
Related Content: Can You Use Your Phone as a Guitar Amp? Yes!
Benefits of Using a Mini Guitar Amp
Practicing with a mini guitar amp is a great way to kick-start your career as a guitarist, and it's also a great way to practice playing on stage without having to turn up a full-size amp so high it rattles your bones.
High-Quality Effects 
There's no need to lug around pedals, and all the essentials are included. From delay to reverb, chorus and flanging to a phaser and tremolo effect. Mini amps are usually fully featured, with everything you need.
Laney mini amps even come with an app to control various effects, to give your guitar the sound of your favorite guitarist or your favorite song.
Great for Practicing
A mini amp guitar can be an excellent gift for any beginner guitarist. You can use it to practice at home or on the go. Some of them are very portable, so you can even take them with you on vacation.
A mini amp can come in handy when you don't want to disturb anyone by playing your guitar at night. Plus, many small amps have a built-in tuner, making it easy to keep your guitar in tune. 
Related Content: How to Tune a Guitar (Electric or Acoustic)
Portability 
Guitar amps have a bad rap when it comes to moving them around, partly because they are heavy and can be challenging to carry. But a mini guitar amp can help make your life easier in this aspect. I wouldn't use one during a live show, but they work for practicing.
A mini guitar amp is easily kept in your pocket or bag and taken anywhere. There's no reason not to bring your own amp with you to practice, and it's much easier than hauling around a big and heavy amplifier. 
How Do You Use a Mini Guitar Amp?
If you're an electric guitarist, you likely use a guitar amplifier. There are multiple types of amplifiers, each with its own unique sound and feature set. Usually, each brand of amplifier can be associated with a particular timbre. 
A mini guitar amp is all about convenience. As previously mentioned, you can use it to practice at home without bothering anyone with your volume. But some are small enough to fit in your pocket so that you can take them anywhere.
Mini amps are for practicing or performing pretty much anything outside of a live show situation. They are not ideal for performances, but they're great for jamming at home or on the street.
In order to use a mini guitar amplifier, use an instrument cable to plug in your electric guitar or bass guitar, turn on the power, followed by adjusting the volume and effects to the desired setting. 
If you want to jam along with a song, connect your smartphone or another playback device to the amp and start playing the music, and then you can start playing along with the music.
Mini guitar amps are commonly used to practice at home. People usually don't want to disturb their neighbors, so they plug in their guitar and mini amp to hone their skills. 
The sound from this type of amplifier can be very low not to disrupt your neighbors or family members. You can also plug in headphones usually if you want to be even more discrete.
Are Mini Amps Good for Beginners?
Have you ever wanted to practice playing your guitar any time you want? Have you ever wanted to jam out with your friends at a party but didn't have enough room for a full-size amp? Not to mention it could be awkward carrying around a large amp.
Mini amps are great for beginners or anyone that wants an amplifier that is easy to carry. They have built-in effects that are good enough for practicing at home or jamming on the go. Mini amps are more affordable than their larger counterparts.
Mini amps are good for beginners since they're smaller than traditional amplifiers, are more affordable, and are very portable. 
Mini amps are also suitable for those who don't have a lot of space in their apartments. However, mini amps don't produce the same tone and have smaller speakers, so they cannot get as loud as a regular amplifier. 
This is why many guitarists recommend buying an amplifier with a more prominent speaker to get the right timbre and enough volume to play a live show.
Signs of a Great Mini Guitar Amplifier
Easy To Carry Around
The key to building a great mini amplifier is its size and portability. A mini amp can be taken anywhere and be carried in any bag, and it can also be used in a variety of situations without taking up too much space.
Pristine Sound Quality
A decade or so ago, mini amps were considered novelty items—a toy for a short period of entertainment and nothing a serious guitarist would use for practice. Things have changed.
Nowadays, the main feature of the mini amp is its excellent sound quality despite its small size. Plus, mini amps can produce great clean sound at higher volumes than ever before.
Battery Powered
To be as portable as possible, mini amplifiers have to be battery-powered.
A small amplifier that has a harsh tone and won't turn on isn't going to be very helpful for practicing by yourself or with friends. Not only will the tone be distorted, but you also won't hear anything coming out of the speaker.
Best Mini Amplifiers for Beginners
Roland Micro Cube GX
The Roland Micro Cube GX is a great mini amp for any beginner guitarist or someone looking for a good practice amplifier that doesn't take up too much space. The sound quality from this little bad boy is top-notch and can be heard at high volumes without any distortion, even on the clean channel.
This mini amp has a plethora of effects, including delay, chorus, and flanger. It also comes with an aux-in so you can easily play along to your favorite song playing from your phone or another device.
Power: 3W
5-inch speaker
Runs on battery or AC power (adapter supplied) and includes a carry strap
Full Specs: Roland.com
Laney Amplifier SUPERG 2x3W
This mini amp is the perfect practice companion for any guitar player. It has two channels, clean and drive, with a 3-watt speaker. It's also battery-powered so that you can take it anywhere you go and jam out with your friends wherever!
The super portable design makes it an excellent choice for young children, as well. It's small enough to fit in the backseat of a car or on a shelf at home without taking up too much space. And even though it is smaller than standard guitar amps, the tone quality and volume both exceed expectations.
Power 3W
Two 3-inch speakers
Control effects through TONEBRIDGE app
Full Specs: Laney.co.uk
BOSS Katana Mini
The Boss Katana Mini is a micro version of the Katana 50 and 100 watt amps.
This mini amp offers three amp types (clean, gain, and more gain), with delay being the only effect. It also comes with an aux-in which allows you to play along.
Power: 7W
4-inch speaker
Runs on battery or AC power (not included)
Full specs: Boss.com
Runner Ups:
The Vox Mini3 G2 Guitar Amp is an excellent way for guitarists to jam around their home or office. You get everything you need in one package—power, high-quality sound, and portability. 
 With 11 simulated guitar amps and eight effects, this amp can give you a wide range of tones to play with. It also comes with a detachable carry strap which makes carrying it around easier!
Marshall MS2 from Amazon.com is a tiny portable guitar amp powered by a battery, and it's so small that you can attach it to your belt or even place it in your pocket.
The Marshall MS2 is designed to recreate the classic Marshall tone without a power outlet. The small size allows the amp to be quickly taken anywhere on the go and still provide those unmistakable Marshall-esque sounds.
The price point for the Marshall MS2 makes it affordable for any musician, beginner, or pro alike.
Conclusion
With all that said, we hope this guide helped you figure out what it takes to get started with a mini guitar amp. Now that you know how simple it is to use and how it can help you achieve a more authentic sound, there's no reason not to give it a shot!
Mini guitar amplifiers are an excellent purchase for any guitarist or casual musician. They provide the sound quality of some amps twice their size and can be taken anywhere without being too cumbersome.
There's no excuse not to get one! With all this information about using these tiny amplifiers, there isn't much left holding back from getting started today!