By some, Martin guitars are considered the best guitars in the world. Guitarists that find the "bright" Taylor sound off-putting often discover that they love the "warm" Martin sound.
For the record, I'm a Taylor guy myself. That said, I can't complain about Martin guitars.
The sounds produced by Martin guitars are unique. If you are looking to get yourself a Martin guitar, knowing which series was made in which location may help you narrow down which particular model fits your budget.
Where Are Martin Guitars Made?
High-End and Mid-Grade Martin guitars are made at their global headquarters in Nazareth in Pennsylvania, USA. Low-End Martin guitars are made in Navojoa, Mexico. Martin guitars are not made in China and never have been.
This article will explain the different places where the Martin guitar is manufactured and the specific brands in these locations. Additionally, you'll get bonus tips to help you identify a Martin guitar, which will hopefully help you when buying or selling a Martin.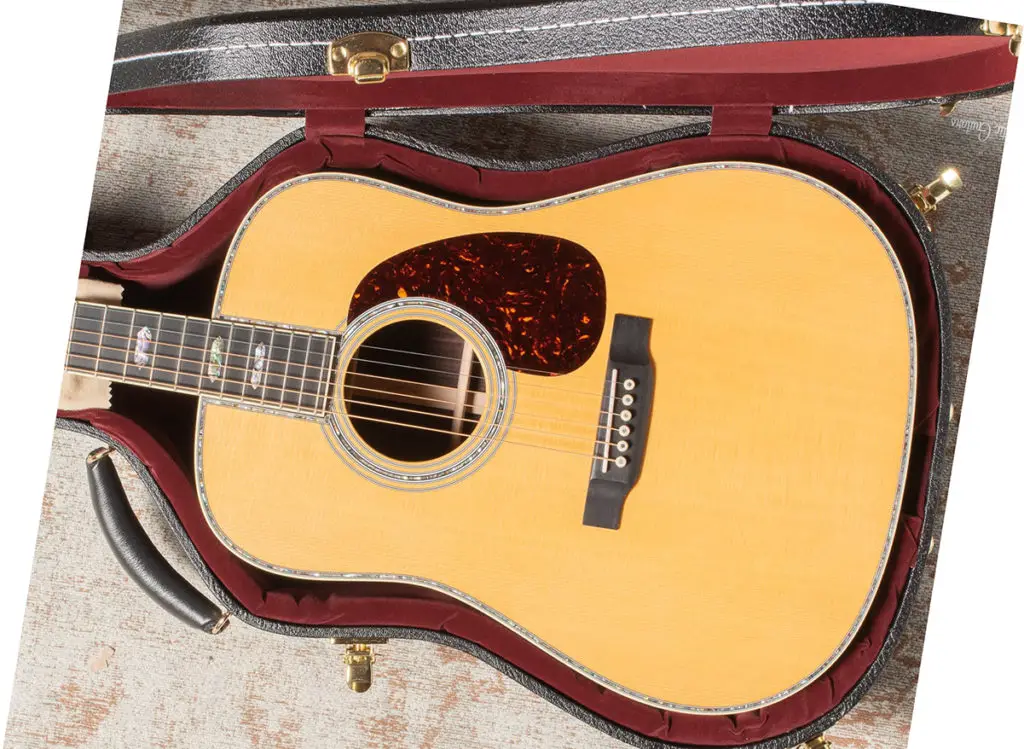 Which Martin Guitars Are Made in America? (At The Nazareth, PA Martin Factory)
Martin Guitars are known for their impeccable craftsmanship and attention to detail, but did you know that not all Martin guitars are made in America?
In fact, many of the instruments sold by this famous guitar company are made in Mexico. We will get into which Martins are made in Mexico after this section.
Martin Produces every guitar except entry-level guitars at the Nazareth, PA, USA location. The current series in production at the Nazareth factory location include Standard series, Modern Deluxe series, Authentic series, 15, 16, and 17 series.
There are a few more affordable American-made Martin guitars, but if the guitar costs more than $2,000, it was made in America.
It's easier for me to read this information in list form. Here is a list of Martin guitars made in America at the Nazareth, PA factory:
Standard series,
Modern Deluxe series,
Authentic series,
15 series,
16 and 17 series.
Martin Guitar's Nazareth, PA factory has been making stringed instruments since 1833 and continues to produce both acoustic and electric guitars to this day.
As well as being an important historical landmark, it also happens to be the only place where some models of Martin guitars are produced domestically. So if you're looking for a 'Made in America' Martin guitar, this is the place to go.
As is always the case with Martin guitars, though, they don't come cheap. An American-made version of the standard Dreadnought will set you back at least $1,200.
Martin guitars are considered, by some, the best guitars in the world. Keep reading to learn more about these Martin guitars.
The Martin Standard Series Guitars
The Standard Series from Martin is a testament to a legendary business's dedication to a heritage of flawless craftsmanship with only the highest-quality tonewoods and appointments, as well as superb playability.
The Martin Standard line of guitars includes a wide range of acoustic guitar body shapes, from Dreadnought and concert to orchestra and auditorium, making them suitable for players of all genres and skill levels.
Related Content: How to Clean an Acoustic Guitar Fretboard
A significant reason as to why the Standard series is in such high demand is the exquisite detail that it comes with, ranging from the scalloped bracing to the dovetail neck joint. 
The Martin Standard Series was retooled in 2018. The more up-to-date High-Performance Taper neck was one of the critical components added to the Martin Standard Series at this time.
The modern player who likes a curve that is comfy to play on and allows for switching between chords and playing leads will enjoy this narrower neck profile.
These guitars are a testament to the excellent craftsmanship put into the manufacture of these guitars, with a large part of the process done by hand. 
The Martin Standard series guitar also offers a lot of prestige, and with every edge and joint sculpted to perfection, the quality of this guitar speaks for itself. 
Martin Modern Deluxe Series
Martin Modern Deluxe guitars were first introduced in January 2019.
The Martin Standard series guitar gives you vintage and class, whereas the Martin Modern Deluxe series brings modern performance to the table. In truth, the charm is more or less the same.
But the differences begin to show in terms of the build. 
A Martin Modern Deluxe series has the following features:
1930s-style pearl logo,
pearl inlaid side dots,
traditional gold Waverly open-gear tuners,
Gold tinted EVO frets,
VTS Sitka top
titanium truss rod,
carbon-fiber coated bridge plate,
comfortable neck profile,
liquid metal red dot endpins,
wood binding
Which Martin Guitars Are Made in Mexico?
Martin guitars are also manufactured in Navojoa, a city located in Sonora, a northern Mexican state.
Martin produces entry-level guitars at the Navojoa, Mexico factory. Martin guitar series produced at the Navojoa factory include the X Series, Little Martin, Backpacker Series, Road Series, Dreadnought Junior, PA5 models, and select ukuleles.
The Road series is the most expensive series built in Mexico, coming in at just over $1,000. 
It's easier for me to read this information in list form. Here is a list of Martin guitars made in Mexico at the Navojoa factory:
X Series,
Little Martin,
Backpacker Series,
Road Series,
Dreadnought Junior,
PA5 models,
and select ukuleles.
The Martin Road Series Guitars
The Martin Road Series is one of the latest collections of acoustic-electric guitars produced by Martin, first released in 2019.
The Road series of guitars have a mortise and tenon joint instead of the dovetail joint used in more expensive models. This does have some effect on the tone, but not as much as the differences in bracing.
A significant point of note in the case of this guitar is the effect that cheap labor and factory costs have on it. The factors mentioned earlier have resulted in manufacturing a guitar with an inferior quality, which dramatically affects the product's durability.
The Martin Road Series does have its perks. The craftsmanship is still top-notch, and the sound quality is okay. From a financial perspective, the series is also very affordable compared to American-made models, given that the cost of production is significantly reduced.
The Martin X Series
The first thing to note about this series is that it uses High-Pressure Laminate for the material on the sides and back. In the wake of this cheaper material, the result is that the guitar will lack the overtones that the Martin Standard series has. 
Additionally, this series of guitars is very affordable and has some of the best craftsmanship.
If you are a beginner looking for a Martin guitar, the X series is the first guitar you want to check.
Martin Junior Series Guitar
Martin Junior series guitars are smaller than standard acoustic guitars (about 7/8ths). This guitar has a shorter scale length, so it's easier for kids or those with smaller hands to play chords.
The Martin Junior is a real Martin guitar with an authentic Martin sound. If you want a travel guitar, look into getting a Little Martin.
The Martin junior series is an ideal guitar for younger players, committed to ensuring that everyone can effectively interact with their musical side. Bear in mind that this doesn't make it a child's guitar, but it allows players with more petite frames to utilize it.
As expected from Martin, the craftsmanship is excellent, and the guitar series is very affordable.
Are Martin Guitars Made in China?
This is probably a sore topic for anyone that works at Martin Guitars.
Martin guitars are not made in China. After a long battle of over 10 years against counterfeit Martin guitars in China, Martin regained full ownership of its trademarks in 2016. Martin guitars are only made in the USA and Mexico.
This article from Lehigh Valley Times (The local newspaper covering Nazareth, PA) covers Martin's battle with Chinese knockoffs.
What Model Is My Martin Guitar?
Martin has produced a lot of different guitars over the years. It's easy to get confused about which model Martin you have, and here is how you can tell.
You can determine the model of your Martin guitar by looking at the guitar neck block visible through the soundhole. The model and serial number are usually located there.
If it's not, check the back of the headframe for a four or five-digit number (serial number). If you still can't find the serial number, read the label inside the guitar. 
Once you've found the serial number, you can visit the website and date your guitar via the provided chart. Additionally, you can contact Martin directly, and they can help you determine your guitar's model.
Martin's website states:
You can look up the manufacturing date of your guitar by serial number here. If your guitar does not have a serial number and was manufactured before 1898, it may only be identifiable by measurements, appointments, and stampings. If that is the case, you can send photos and a description of the instrument here.

Source: https://www.martinguitar.com/customer-service-2/faqs.html
Final Thoughts
Martin guitars are made in Mexico and the United States. They are not manufactured in China, as they have been battling counterfeiters for decades now.
If you're looking for a martin guitar that comes equipped with quality craftsmanship and sound quality but don't want to spend hundreds of dollars on an American-made model, then check out the Martin Road Series or the X series!
In the end, we hope you now know where Martin Guitars are made and can decide whether or not this is important to you. Martin guitars are great guitars.