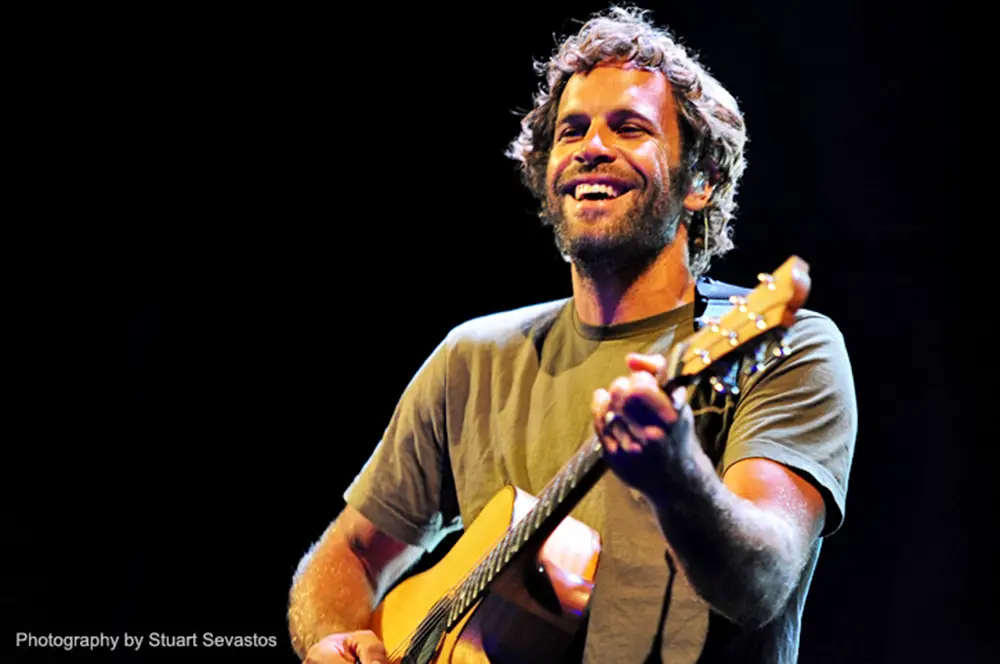 Jack Johnson is one of the most well-known soft rock acoustic players. He started his rise to fame in the early 2000s and continues to release hits two decades later.
Jack's music first became commercially successful in 2001, with his debut album, Brushfire Fairytales, which became a platinum-selling album. Johnson has reached number one on several more albums as well: Sing-A-Longs and Lullabies in 2006, Sleep Through the Static in 2008, To the Sea in 2010, and From Here to Now to You in 2013.
 Thanks to Jack Johnson's success, many have become interested in what guitars he uses.
 Jack Johnson plays these guitars:
Cole Clark Fat Lady 2
Cole Clark Culprit III
Fender Telecaster
Gibson ES 335
Gibson Blues King Acoustic
Gibson J-45
Guild D-40
Taylor GS Mini Acoustic
Johnson has primarily used Cole Clark guitars throughout his career, and the guitar can be seen being used in many of his performances. Though he uses different guitars now, he did start out playing on brands that you might expect, such as a Fender Telecaster and the Gibson ES 355. Johnson only uses the Cole Clark Fat Lady 2 and the Cole Clark Culprit III for the Cole Clarks.
If Jack Johnson inspires you to learn guitar, I recommend two sites: justinguitars.com & jamplay.com. Justin guitars has a wide selection of free lessons as well as paid-for resources. Jamplay is primarily a membership lesson plan, although they do offer free tools.
 Let's take a look at those guitars!
Cole Clark Fat Lady 2
The Cole Clark Fat Lady 2 (Model #: FL2) is a fat-bodied dreadnought acoustic guitar. They come in a variety of wood options, but all have a unique unfinished look to them. Cole Clark is a premium brand and only makes high-end instruments. The Fat Lady is no exception, and it sounds great. That is one of the reasons that Jack uses this guitar.
Johnson can be heard playing his Fat Lady in the album In Between Dreams.
Cole Clark's History
Let's take a look at Cole Clarks' history before we continue about the guitar.
Cole Clark is an Australian guitar company founded in 2001 by guitar luthiers Adam Cole and Bradley Clark. These two guitar experts had accumulated years of experience prior to founding Cole Clark. They departed the company in 2013 to pursue other ventures, but the guitars continue to maintain their quality builds.
One of the unique characteristics of Cole Clark guitars is that they are made from trees indigenous to Australia. That helps to distinguish them and gives the guitar a tone that can't be found anywhere else.
Cole Clark Fat Lady 2 Build & Design
The particular Fat Lady 2 that Johnson uses is an acoustic-electric. It has a dreadnought body and uses steel strings. The body is made from Australian blackwood, with a bunya top and Queensland Maple neck. This gives the guitar a rich, full, bright sound that compliments Jack Johnson's calm, soothing playing style.
Notice that all the wood types are native to Australia. The bunya top replaces the most commonly used wood found on most guitars; spruce. This is what helps to give the Fat Lady 2 its distinctive, bright tone. The Queensland maple neck gives the Fat Lady2 good sustain and powerful resonance.
The Fat Lady 2 has been Jack Johnson's primary acoustic for many of his releases since he first picked up on them in 2003.
Cole Clark Culprit III
The Culprit, originally named the Offender, series of electric guitars takes heavy inspiration from the Fender Telecaster. The Culprit has a twin model called the Guardian, previously called the Defender and fashioned after the Fender Stratocaster. designed
The Culprit was created to be a surfer's guitar, making it a superb guitar for many different playing styles, from laid-back country and punk to muddy blues, to hard rock. The construction quality of the Culprit is excellent, and it has an unmistakably authentic design. Although, you can see hints of inspiration from other guitar models.
A Rare Electric: No Longer Manufactured
The first guitars sold by Cole Clark were electrics. The Culprit and Guardian models were the company's flagship guitars and assisted in putting them on the map. 
However, as of 2012, Cole Clark abandoned the production of all-electric guitars. This means that this unusual sound is only available from buying used instruments. Jack Johnson bought his guitar before they ended production, and he will expectedly keep using it for its creamy, easygoing feel.
Cole Clark Culprit III Build
The Culprit is sometimes jokingly called a hollow-body telecaster. The layout of the whole guitar is based on the Fender Telecaster. The main difference between the two designs is that the Culprit has a resonator cavity carved into the body. The wood body is carved out rather than gluing on a center block.
The neck, the neck pickup, and the bridge are connected to the guitar in a way designed to enhance sustain and resonance. The sound chambers (Yes, there are multiple chambers in the body) add additional reflections and a unique tone before coming out of the revised f-hole.
The guitar sounds great unplugged, and the extra resonances created by the hollow body make the amplified sound more forceful and distinct.
Cole Clark Culprit III Electronics
The Culprit 3 uses a pair of Cole Clark's Culprit single-coil pickups. The pickups are wired into a 4-way switch instead of the expected 3-way switch. 
Position 1: Bridge pickup; 
Position 2: Bridge and neck in parallel
Position 3: Neck pickup
Position 4: Bridge and neck in series
Fender Telecaster
Fender is a brand we all have heard of. They are one of the biggest, most well-known names in the guitar world. The Stratocaster is quite possibly the most iconic guitar of all time. The Telecaster is not too far behind. 
The legendary design of the Telecaster is steeped in the rock tradition, and its bright, poppy tone give it an edge. It is versatile and fits perfectly with Jack Johnson's sound.
Fender Telecaster: One of the Oldest Guitars on the Market
The Telecaster was the first commercially triumphant solid-body electrics on the market. It established the 2-pickup design and had a classy, futuristic look when it originated in 1951. 
It followed the commercial flop of the Esquire, which had only one pickup. The Telecaster's popularity led to the creation of the Stratocaster. The Telecaster is one of rock's oldest guitars, and it endures to this day for its clear, bright sound.
Fender Telecaster Body
The Telecaster is made from ash wood, which is a porous, dense type of wood. This choice of wood fits perfectly with the medium-sized body to give it its punchy tone. The neck is made of natural maple, which adds sustain and fullness to the sound.
The cut of the neck is comparatively thin to other modern 50s guitars.  
Fender Telecaster Electronics
The Telecaster has two single-coil pickups organized in the typical bridge-neck form. Single coil pickups give the guitar a high-gain, bright sound. The pickups have some pop and are excellent for quick-playing or calm chording. 
The player can command the sound by switching which pickups are in use, as well as through a tone and volume knob.
Gibson ES 335
The ES 335 is a heavyset blues guitar that has a legacy in blues and rock. Its deep, resonant sound provides a contrast to the rest of Jack Johnson's guitars, but he still uses it to his advantage.
Gibson ES 335: The Original Blues Guitar
The semi-hollow body wasn't innovative when the ES 335 was released, but it was the first design to eliminate the continuous buzz from the electrified resonator cavity. 
Gibson fixed this obstacle by running a maple block through the guitar. This helped popularize the electric guitar among blues guitarists, and Chuck Berry became one of the ES 335's first adopters. After this, the ES 335 became the must-have blues guitar.
Gibson ES 335 Build
The ES 335 is built by alternating maple wood with poplar wood. Paired with the semi-hollow design, it gives the ES 335 a harmonious, extensive sound associated with the blues and classic rock.
The neck is made of solid mahogany, adding sustain and intensity to the sound. The neck is broader than most rock guitars, causing it to be great for bluesy solos.
Gibson ES 335 Electronics
ES 335s use unbalanced, loosely wound humbucker pickups. This is just how pickups were made back in the day. These days, Gibson names them "Burstbucker" pickups for being made in this more old-fashioned style.
There are two pickups in the standard bridge-neck configuration, each with a knob to control the tone and volume.
Frequently Asked Questions About Jack Johnson
Does Jack Johnson use a pick?
Jack Johnson usually uses his hand, and no pick, to strum and pick songs but is occasionally seen using a pick to play certain songs. He is often seen using a pick while playing his acoustic guitar with a soundhole cover.
Is Jack Johnson a good guitarist?
Jack Johnson is a skilled guitar player capable of playing complex rhythms and keeping a percussive tone by muting and strumming strings. These and other skills make Jack Johnson a good guitarist.
Johnson is not a guitar virtuoso like John Mayer, who went to school for guitar (later dropping out). However, Jack Johnson has skills learned through years of practice—playing complex rhythms while singing is not an easy task.
Conclusion
Jack Johnson's soft, relaxing tone has created many aspiring guitarists. His uncommon choice of instruments combined with his soothing writing style has made his music a welcoming enhancement to the guitar world. 
He picked his instruments to fit his sound flawlessly, and it paid off with his music sounding whole and precise with his writing style and singing voice.