Guitar amps are a crucial part of any band's sound. It is the way that you control how your guitar sounds coming out of the speakers. There are many different types of amplifiers and speakers. This article focuses on a topic that combines the two: Combo Amps. So, what is a combo amp?
A combo amp, short for combination amplifier, is a single piece of equipment containing both amplifier and speakers. Combo amps are an all-in-one unit that can be used without any additional equipment.
A combo amp provides convenience because you can carry around your entire setup in one piece of equipment. This can also be an inconvenience because it makes the equipment heavier.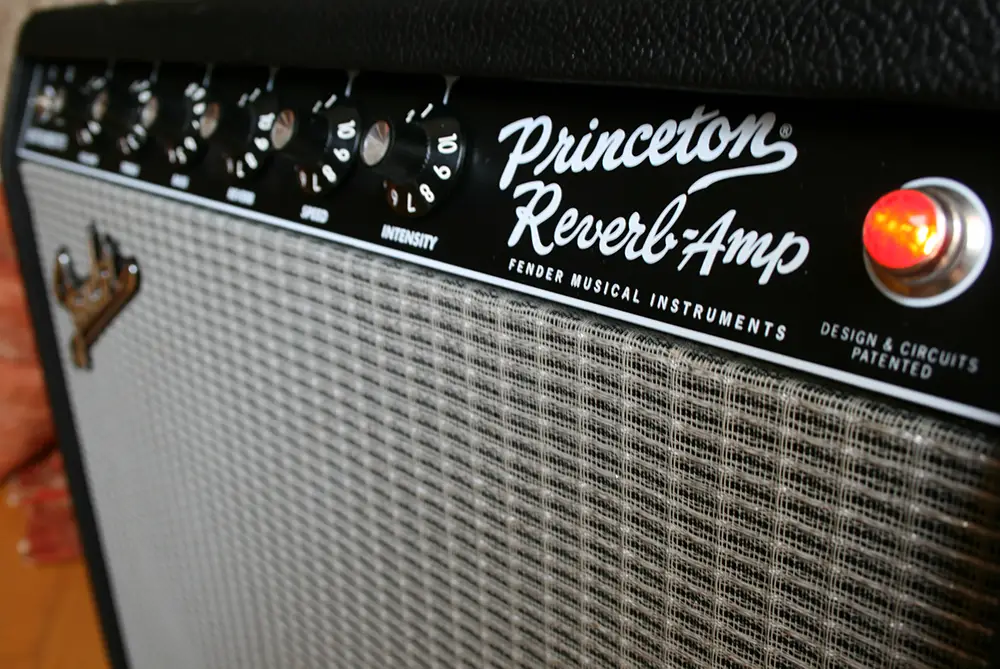 What Are Combo Amps Used For?
Combo amps have a wide variety of applications. Combo amps can be used for practicing or rehearsals, recording in the studio, and playing gigs at small to medium-sized venues.
Often, combo amps are used in recording situations and the home where you may not have room for a dedicated speaker cab to go with your amp head. If you are not playing large venues, combo amps are typically all you need.
The amps are designed for portability but can just as quickly be used in a fixed location such as recording studios, rehearsal areas, and small to mid-sized venues.
Contrary to popular belief, a head and cabinet setup is not always the best choice for gigging. A combo amp will work just fine. If needed, get a tube combo amp to get a little louder and cut through the mix more. If required, invest in a tube combo amplifier. They get a little louder and sound great.
Practice amps are usually solid-state or modeling combo units featuring low power (10-30 watts) and small (8″ or 10″) speakers. For rehearsal and playing smaller venues, consider tube and modeling combo amps with power ratings averaging about 50 watts and 12″ speakers for fuller sound. 
Practice amps are often low-powered (10-30 watts) solid-state combos amps with smaller (8′′ or 10′′) speakers. For smaller performances, consider 50W tube combos and one or two 12″ speakers for a fuller sound.
Why Should I Get A Combo Amp Instead Of An Amplifier?
Powered speakers come with their own built-in amplifier, making it easy for you to plug in your instrument and start playing.
In addition, using a combo amp also keeps the overall weight of your setup lower. If you only want to carry one piece of equipment instead of two, you will save yourself a lot of time and energy!
How To Choose The Right Combo Amp For You?
Combo amps are generally separated into two series, tube amps and solid-state/digital amps. Tube amps use an internal heat source called a 'tube' to amplify the sound coming from your instrument. Solid-state amps use semiconductors to amplify sound. These are usually more expensive than solid-state amps, but they produce high-quality sounds.
As mentioned before, using a combo amp not only allows you to save time and energy during setup but also keeps your overall weight low. You can even get one that is battery-powered! If you are tired of carrying heavy equipment around, this is the way to go. However, most tube amps require an external power source.
So, when choosing the right combo amp for you, make sure to think about its weight and power consumption, as well as if it's battery-powered.
There is a broad range of prices available. If your budget allows, you can get yourself a higher quality tube amp, but if not, don't worry! There are plenty of combo amps out there that are affordable and still deliver high-quality sounds.
Advantages And Disadvantages Of Getting A Combo Amp
Advantages:
Portability. No heavy speaker cabinet to carry around and only one piece of equipment to set up.
More convenient, you only have to move around one piece of equipment for your amplification needs.
You can usually plug in another speaker cabinet to a combo amp so that you can use different speaker cabs.
The overall weight is reduced.
You can power your amp with batteries instead of an external power supply (if it's battery-powered).
They can easily be used in recording studios.
Disadvantages:
Not as modular. Separate speaker cabinets would allow you to grab a 1X12, 2X12, 4X12, or two 4X12s, depending on what you need for a performance. 
For tube combo amps, tubes are generally located in the same space as the speakers, meaning they're subject to vibrations, particularly at loud volumes.
Some closed-back combo amps don't allow heat to escape effectively, resulting in hotter operation and shorter device life.
Common Brands That Make Combo Amps 
There are many different brands when it comes to combo amps and powered speakers. Here is a list of the most well-known ones, in no particular order:
– Fender
– Marshall
– Behringer
– Bugera
– Crate
– Peavey
– Blackstar
– Line 6
– Orange
– Roland
– Yamaha
– Kustom
And much more!
The Best Combos Amps On The Market Today
There are many different models available, and all of them come with their own set of advantages.
Fender Blues Junior IV
The Fender Blues Junior IV is a 15-watt 1-channel All-tube 1×12″ Combo Guitar Amplifier with Fat Switch, Spring Reverb, and Celestion Speaker. The Blues Junior IV is a small combo amp that has modified preamp circuitry, smoother-sounding spring reverb, and improved aesthetics that any player will enjoy. This amp is ideal for guitarists who need to hit the stage or studio at a moment's notice with a warm tone and versatile possibilities. It has enough power for everything from practice to performance.
Peavey Bandit 112
The Peavey Bandit 112 80W 1×12 Guitar Combo is a no-nonsense workhorse amplifier that includes some of the most robust amp modeling technology on the market with a range of features.- The Peavey 'Bandit 112' is an 80-watt 2-Channel 1×12″ Guitar Combo Amplifier with High and Low Gain Inputs, EQ, and Reverb.
The Bandit 112 is a two-channel amp with clean and lead channels, three-band EQs on each channel, and the company's TransTube technology capturing the organic warmth players appreciate. A three-way switch allows you to choose between vintage/classic/warm settings on the clean side. There are pre-and post-gain controls on the overdrive channel to adjust the ideal balance for your distinctive tone.
Blackstar ID Core 10 V3
The Blackstar ID Core 10 V3 is the ideal entry-level guitar amplifier.- The Blackstar 'ID Core 10 V3' is a 10W (2 x 5W) Modeling 2×3″ Guitar Combo Amplifier with 6 Voices, Onboard Effects, USB Output, TRRS Aux Input, and 1/8″ Cab-emulated Line/Headphone Output. A SIMPLE AND EASY-TO-USE CONTROL SETUP PROVIDES the SUPER WIDE STEREO audio quality and flexibility, which delivers immersive stereo sound to provide an engaging playing experience that will keep you hooked on guitar.
Marshall SV20C
The Marshall SV20C is a 20/5-watt, 1×10″ 1-channel Tube Guitar Combo Amplifier with Celestion Speaker, 4 Inputs, High/Low Sensitivity Loudness Controls, EQ, Effects Loop, Power Reduction Circuit, and DI Output. A 20-watt version of the iconic 59 Super Lead or (Plexi) Marshall design. This amp is excellent for players looking for high-end sound in an easily transportable smaller combo amp package.
Bugera V55 Infinium
The Bugera V55 Infinium is a 55-watt 2-channel All-tube 1×12″ Guitar Combo Amplifier with Reverb, EQ, Normal and Bright Inputs Selectable Triode or Pentode Operation, and Tube Life Multiplier Technology features all the essentials of an excellent amplifier.  The impressively full-featured and hand-built, 55-Watt, 2-Channel VINTAGE V55 INFINIUM tube combo amplifier emanates not only vintage sound and style but also incorporates modern characteristics that will propel your tone into another dimension.
Fender '65 Reissue Princeton Reverb
The Fender '65 Reissue Princeton Reverb is a replica of the classic amplifier, with the same components used by Fender in their original amplifiers. The amp has a 12AX7 tube preamp, onboard tube reverb, and tremolo with an included footswitch and 10″ Celestion G10 Gold speaker.- The Fender '65 Reissue Princeton Reverb' is a 12-watt, 1-ch 1×12″ Tube Guitar Combo Amplifier with Reverb and Tremolo. The combo is a reissue, but it has the sound and feel of vintage Fender.
Final thoughts:
Combo amps are a vital piece of equipment for practicing and for your live performances. Whether you're on stage or practicing in the comfort of your home, they deliver high-quality sound that will leave you and your audience wanting more.
It may seem like a confusing choice to make when there are so many different options available. An excellent way to go about this is to check out some reviews on websites or magazines and go to the store and try one out yourself. You can also ask fellow musicians for their advice, but I know everyone has their preferences when it comes to their sound.
There are many different types of amps available. Each model offers a unique sound quality depending on your needs. Make sure to try to play the amp in-store or at a friend's house so that you can be 100% happy with your purchase!