Freddie Mercury was the lead singer of the rock band Queen. He died in 1991, but to this date, there are rumors about what microphone he used. But first, why is this even important? Well, if you understand how microphones work, then it's easy to see that the choice of a microphone for a vocalist could have an input into creating that voice one hears when listening to them sing.
What microphone did Freddie Mercury use?
Freddie Mercury used a wired Shure 565SD Unisphere Vocal Microphone during live performances, except for his last tour, the Magic Tour, in which he used a Sony wireless microphone, presumably the Sony WRT-67. Freddie is known to have used an AKG C414 EB in the studio.
Freddie Mercury did not use a Shure SM58, as some websites and people have stated in particular forums.
Some people have mistaken the Shure SM58 for the Unisphere, so it's critical to note that they are two different microphones. The SM58 was not as popular of a mic when Freddie was alive.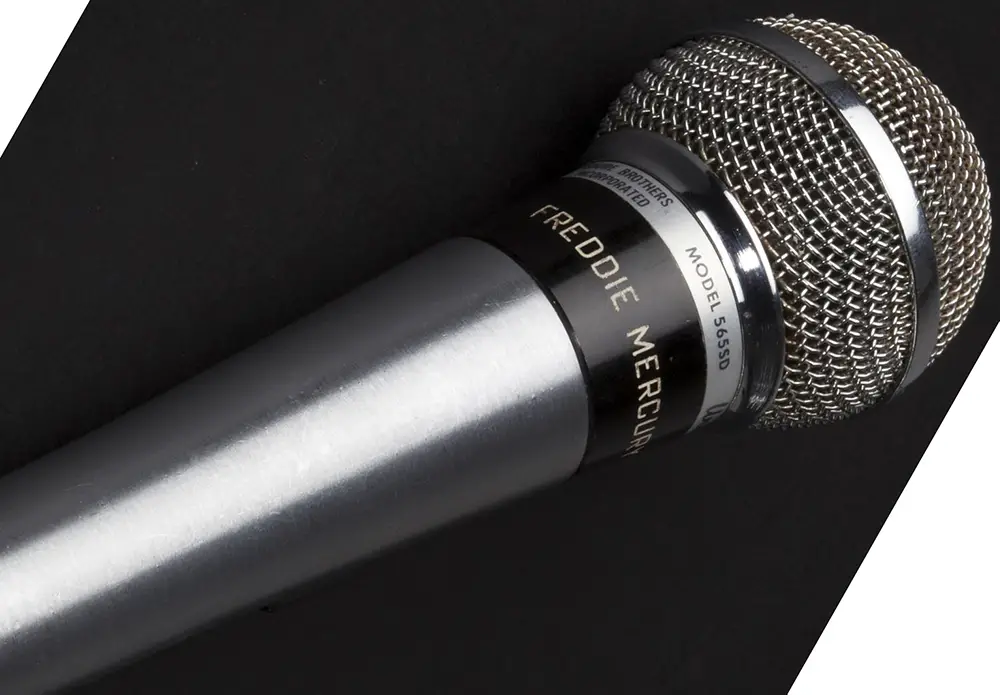 Shure 565
The 565SD Classic Unisphere® Vocal Microphone is a dual-impedance, unidirectional dynamic microphone famous for its spot on the Woodstock stage.
The 565SD is unsurpassed for singing or speech in live performances, tours, and outdoor sporting events and rallies.
Frequency Response of the Shure 565SD
The following is taken from the Shure literature on the Shure 565SD: User guide 565: https://pubs.shure.com/guide/565/en-US
Shure SM58
The Shure SM58® is a unidirectional (cardioid) dynamic vocal microphone popularized by its use in live performances and applications where feedback resistance is essential. The SM58 is designed for ease of use and placement, ruggedness, and reliable performance in the widest variety of situations.
Frequency Response of the Shure SM58
The following is taken from the Shure literature on the SM58: User Guide https://pubs.shure.com/guide/SM58/en-US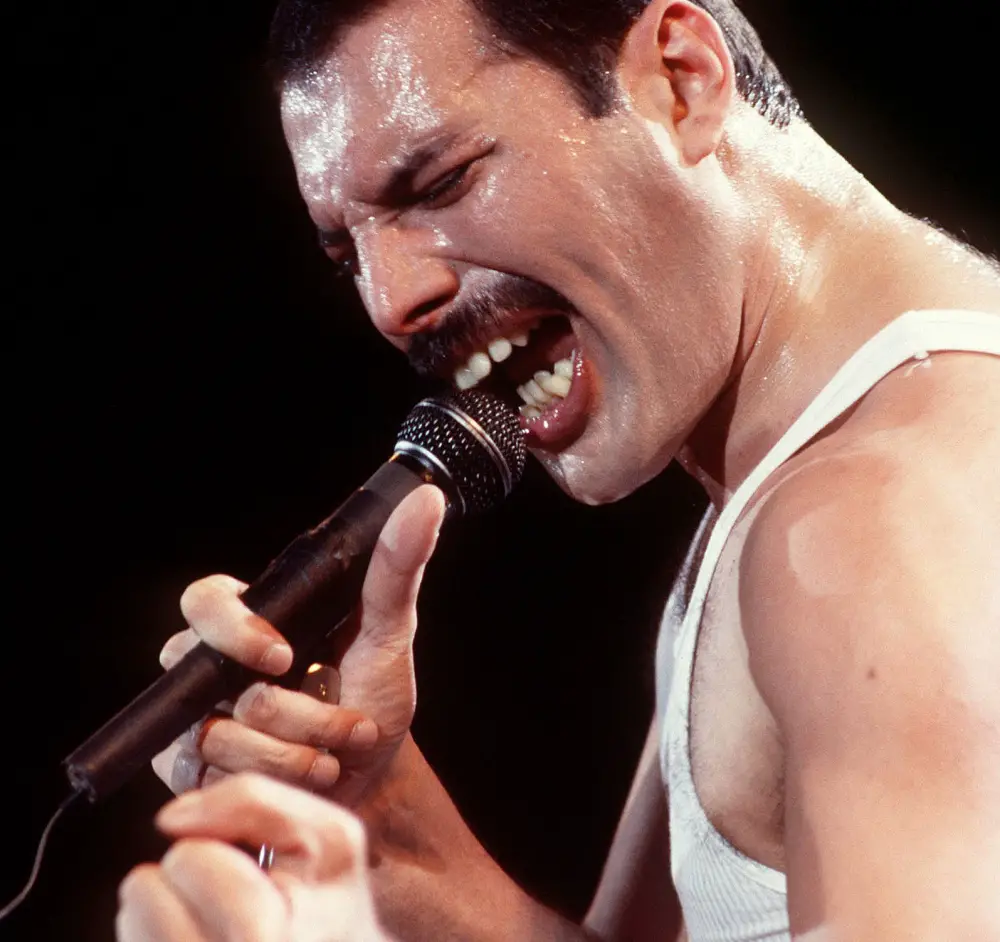 Sony WRT-67
There really isn't a whole lot of information publicly available about the Sony WRT-67. I was able to find a "New Products" section in the Studio Sound magazine that announced the release of the WRT-67, and a few pictures from overseas. However, that is it. I couldn't even dig up anything from Sony.
This product announcement was from March 1986, a short time before the Magic Tour began. The Magic Tour ran from June 7, 1986 – August 9, 1986, and was the only tour the Freddie regularly used a wireless mic.
What microphone did Freddie Mercury record with?
Freddie Mercury is best known for his flamboyant live performances and operatic singing voice. So it's easy to forget that he was also an excellent studio vocalist, with some of the finest recorded performances in pop music history.
We've all heard at least one of these greatest hits – "Bohemian Rhapsody," "Crazy Little Thing Called Love," "We Are the Champions" — and many more.
Freddie Mercury used an AKG C414 EB to record within the studio.
Freddie can be seen singing into an AKG C414 EB mic during the filming of the "One Vision" video, as seen here.
AKG C414 EB
The AKG C414 EB is a decent mic for its age, and it's praised chiefly for handling the highs with slight sibilance.  The highs are amazingly free from nasty sibilance, and the EB has this euphoric sound to it, which could probably be desirable for Freddie's voice. 
The AKG does have some distortion to it. 
The mic is susceptible to plosives if placed too close, so a pop screen should be used instead of singing directly into this mic, as seen in the video.
Frequency Response of the AKG C414 EB
The C414 back in the day had a reasonably flat frequency response and varied slightly depending on which mode it was set to. The frequency response charts can be found here: http://recordinghacks.com/microphones/AKG-Acoustics/C-414-EB
In Conclusion
Freddie Mercury's microphone usage is a good starting point for those looking to find the perfect mic. The Shure 565 is an excellent option for some voices, but they have limitations in terms of sound quality when recording audio from a distance or being used to pick up ambient noises. 
The Sony WRT-67 wireless microphone is far outdated. Good luck even finding one to use. One of the brand leaders in wireless microphones today is Sennheiser. 
When Freddie was performing live, he would use a Shure 565. On the other hand, his go-to studio mic was an AKG C414 used by many artists in the studio in Freddie's time. Today, it is outdated. 
The SM58 is an excellent dynamic microphone you can use to record vocals, but if you are looking for a condenser, I'd go with the Neumann U 87 on the high end if you have no budget and a Rode NT1 for those on a budget
Overall, there are many different types of microphones out there, depending on what kind of performance or setting you will be using them in.